Introduction
Atrial fibrillation (AF) is the most common type of irregular heartbeat, affecting millions of people worldwide. One of the treatment options for AF is electrical cardioversion, which involves the implementation of an electric shock to the heart to restore the normal heart rhythm. Electrical cardioversion is most effective in patients with recent-onset AF and is typically reserved for patients with severe or persistent AF. It's important to discuss the risks and benefits of cardioversion with the patients so that they are fully informed about the procedure and so that they know what to expect before, during, and after the treatment.
Electrical cardioversion may not be the preferred treatment for patients with paroxysmal AF because this type of AF typically comes and goes on its own, and many patients are asymptomatic between episodes. Additionally, cardioversion does not address the underlying cause of AF, which may be related to lifestyle factors, underlying medical conditions, or genetic factors. Therefore, it may be more appropriate to manage paroxysmal AF with medications to control the heart rate and prevent blood clots, along with other interventions such as catheter ablation and/or lifestyle modifications such as reducing alcohol and caffeine intake and managing stress levels. However, each patient's case is unique, and treatment decisions should be made in consultation with a healthcare provider based on the individual patient's needs and circumstances.
FibriCheck use case
Age
61 years old
Gender
Male
Comorbidities
Hypertension
Other relevant information

Presumed persistent atrial fibrillation

Previous cardioversion with AF recurrence a after few minutes

Medication
Amiodarone (antiarrhythmic)
A 61-year-old patient, with a history of hypertension, underwent electrical cardioversion to treat his symptomatic AF. A few minutes after the procedure, he was found to have AF again. Amiodarone therapy was initiated, and the patient was scheduled for a second cardioversion. While being on the waiting list for the second cardioversion procedure, the patient's heart rate, heart rhythm, and symptoms were monitored with FibriCheck. The results showed a spontaneous conversion to sinus rhythm, followed by multiple shorter AF episodes indicating a clear pattern of paroxysmal atrial fibrillation.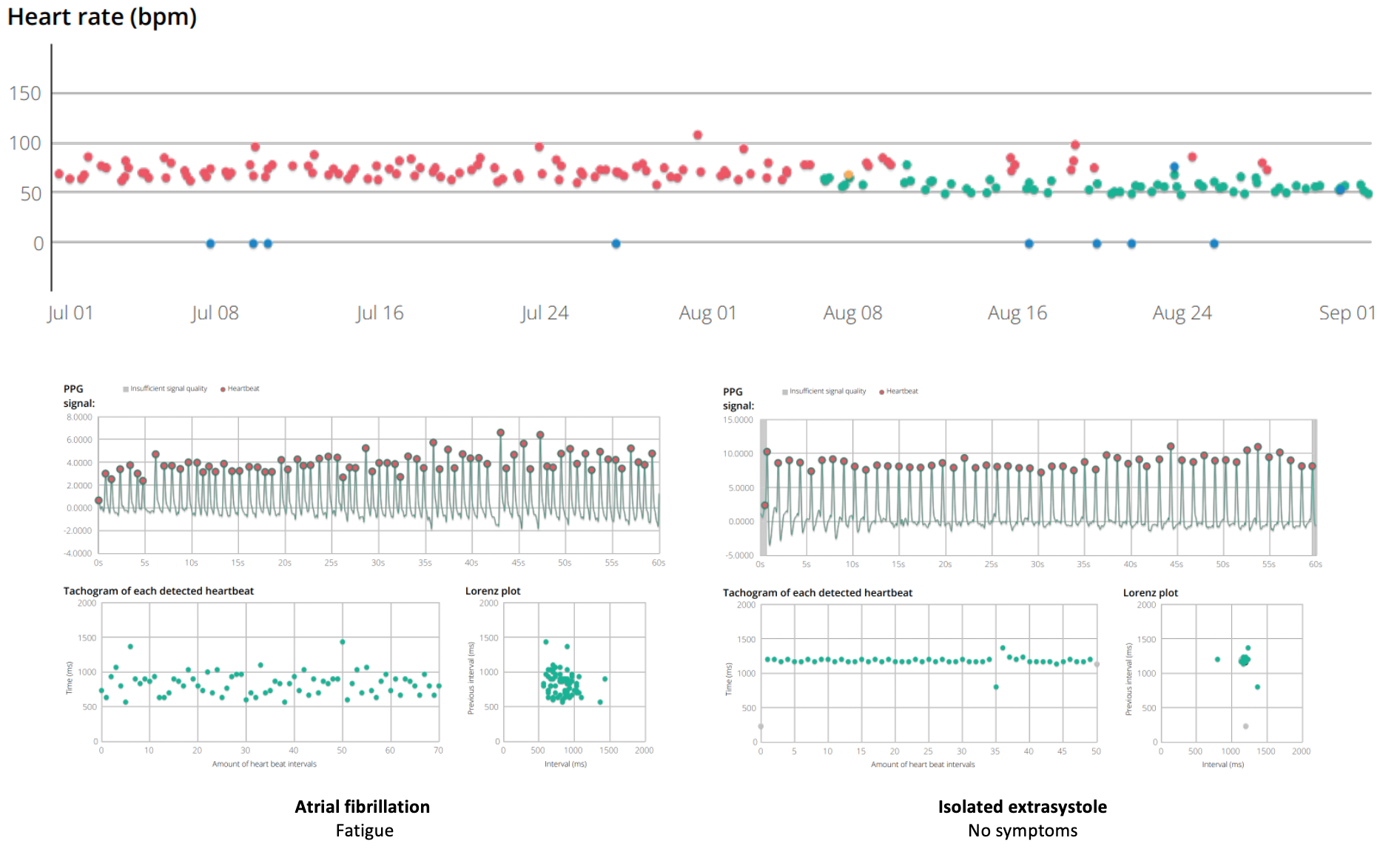 Over a period of 62 days, the patient performed 187 FibriCheck recordings using his smartphone. This results in an average number of 3 recordings per day, which is in line with the prescriber's recommended number of measurements (3 measurements per day). The majority of these measurements were classified as atrial fibrillation (61.0%) and visualised via the red dots, while 0.5% and 5.3% of the recordings were classified as non-AF arrhythmias (orange dot) and insufficient signal quality (blue dots), respectively. The remaining recordings (33.2%) were classified as normal (green dots). The results are summarised in the table below.
| | | | | |
| --- | --- | --- | --- | --- |
| | Non-AF recordings | AF recordings | Insufficient quality recordings | Total |
| No symptoms | 42 | 2 | 2 | 46 |
| Symptoms | 21 | 112 | 8 | 141 |
| Total | 63 | 114 | 10 | 187 |
Based on these longitudinal insights, the scheduled electrical cardioversion was canceled, and a catheter ablation procedure was scheduled to treat paroxysmal atrial fibrillation. The use of FibriCheck allowed for timely and accurate insights into the patient's condition, which allowed clinicians to make informed decisions and adjust their treatment plans accordingly.
In conclusion, remote monitoring tools like FibriCheck can provide significant benefits in managing patients with atrial fibrillation while being on the waiting list for procedures. By providing real-time insights into the patient's heart rhythm, healthcare providers can make informed decisions and adjust treatment plans accordingly, resulting in better outcomes for patients.